#CTRLDEV wisdom
I had the great opportunity to help run the #CTRLDEV game development Q&A session with the letmakegames crew yesterday and On the panel were international and local industry professionals: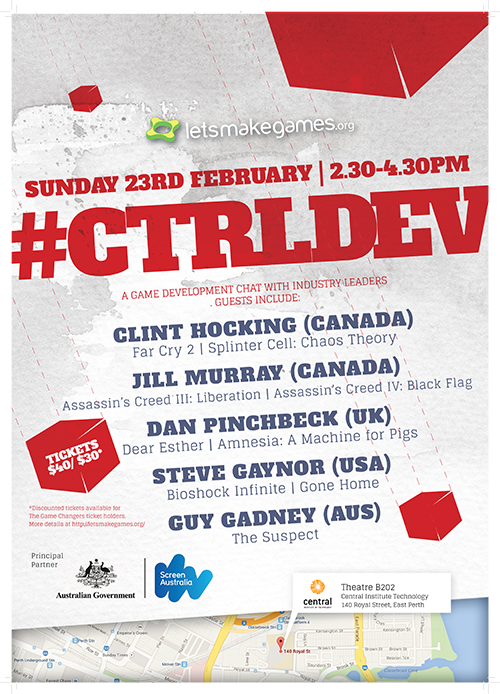 Clint Hocking - Far Cry2, Splinter Cell: Chaps Theory
Jill Murray - Assassin's Creed III: Liberation, Assassin's Creed IV: Black Flag
Dan Pinchbeck - Dear Esther, Amnesia: A Machine for Pigs
Steve Gaynor - Gone Home, Bioshock Infinite
And Guy Gadney - The Suspect
Here's some pearls of wisdom that I noted down:
With respect to running an indie studio:
1. You are your people. If 1 of 4 people sucks, that's 25% of your productivity vs 1 out of 100.
2. You still have people you have to answer to, whether that's the bank, the rent or if anything your players
3. You don't have to convince your boss's boss that the players might like it. You can just go directly to the players and do the real test
4. Don't bring politics in your small company. Cultural fit is extremely important (see 1.)
5. You have to assume that your game won't sell, and then, what's your next plan
6. The mythical starving artist is bullshit. Don't be that guy. Running an indie studio is running a business.
When dealing with publishers as an indie:
7. Get the game out in the form that allows you to get it out to your core audience and then you can use your track record to approach publishers to broaden your audience
8. You will always have to compromise but always ask yourself what you are willing to give away to keep your vision
When talking about studios in general:
9. Junior staff are your wildcards. You make plans assuming that they'll scale slowly but if they pick up faster than expected, you're left with some extra capacity that you wouldn't have had otherwise.
10. Being creative in game design is not about what you like. What you like in some other game isn't necessarily good for the current game. Being creative is to find things that work well for the current game and support the other existing mechanisms
11. When applying for jobs, look for companies that want to interview you out rather than interview you in. i.e. if they hire you straight away without any sort of proper due diligence then something's wrong. Strong talent usually seeks strong talent and will go to great lengths to screen out the best. That's where you want to be.
All in all it was a very constructive event and a sobering but very true perspective on game development and the things you would probably want to be told before joining the industry.
Laters,
- R